Gary Schmidt is one of my favorite authors of all time. I love The Wednesday Wars and after having re-read it last year with a group of fifth graders and getting to hear him speak last spring, my Schmidt admiration is in full force.
I was amazed after hearing him speak by what a good storyteller he is. And I have been looking forward to the new novel he spoke about since seeing him.
And I was so not disappointed. Schmidt had a lot to live up to for me, since his new book was no doubt going to be held up against Wednesday Wars for comparison.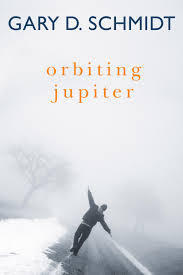 Orbiting Jupiter is a very different novel than The Wednesday Wars. It's set in the present day, not the 60s, but there are a few appearances by a few Wednesday War characters, and I enjoyed hearing the names Swietek and Hupfer again.
Jack and his parents take in Joseph as a foster child. His reputation has preceded him as he is known for trying to kill his teacher and has spent some time at a juvenile detention facility.
Joseph is also a father, although he has never met his daughter. Despite the many stories surrounding him and the walls he has erected around himself, there's more to Joseph than most people understand. Jack and his parents begin to know the real Joseph and find out what happened to him that has led to his current situation.
Jack wants to help Joseph find Jupiter, but he is also the one person that has Joseph's back. And finally Joseph is starting to trust this foster family who cares so much for him.
Schmidt broke my heart many times in this story, but never moreso than at the end. And yet, the ending was perfect.
I'm walking away from this book, anxious to talk with others who have read it, and excited to see the love for another winner from Gary Schmidt. Orbiting Jupiter is a must read for middle schoolers and adults alike. Schmidt's storytelling skills are again remarkable and I am already awaiting what he writes next.