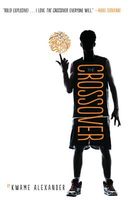 Although I'm not a big fan of poetry, I love novels in verse. I am always so impressed with how authors can say so much in so few words- words that they have selected so carefully.
Crossover is the story of twin boys, Josh and JB, basketball stars who take after their father. Josh narrates, often writing in a hip hop style that creates a realistic vision of these brothers and their lives.
Josh and JB have always been close, but now that they are getting older, they are finding a few things standing in their way - the most obvious: girls. JB has a girlfriend that is taking up all his free time. While Josh is still focused on basketball, he is having a hard time adjusting to the lack of time he and his brother now spend together.
Their father is the boys' biggest supporter as they pursue their passion for basketball. Yet his own career was cut short due to health problems. As his wife and sons encourage him to watch his diet and address his health issues, he resists, creating stress for the family.
This is a book I want to press into the hands of tween boys who enjoy sports and are looking for a good story. (However, I should also stress that even those teens - or moms like me- who are not sports crazy may find themselves really enjoying Crossover).