I often find it difficult to want to read books that are getting a lot of press. Call me contrary, but it is more exciting to me to find a hidden gem than it is to read something that everyone already knows about.
Oh, eventually I'll get around to reading that best seller, but it will be in my own time - which usually is quite a lengthy while.
So, I surprised myself a little bit by getting right down to it and reading Sue Monk Kidd's The Invention of Wings. I loved The Secret Life of Bees, and since Oprah picked it as her new Oprah 2.0 Book Club Selection, it has been reviewed by nearly everyone.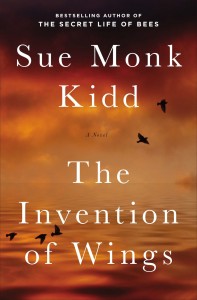 And I am here to confirm that The Invention of Wings will not disappoint. Told by alternating narrators, Sarah Grimke is just eleven when her parents gift her with a house slave, Handful. Even as a child Sarah knows slavery is wrong, and there are many things her parents believe in that she disagrees with. Sarah would also love to go to college and pursue a career in law, but instead she must follow the conventions of society. The one bright spot in her life is her younger sister, Angelina. She is able to teach Angelina her own values, and as the two girls grow up, they both are firm in their anti-slavery beliefs, eventually speaking out against the practice.
Handful and her mauma Charlotte are the valued slaves of the Grimke family. Mrs. Grimke is not always the easiest woman to work for, but the two enjoy a fairly stable life on the Grimke plantation. Charlotte dreams of being free one day and when both Sarah and Handful are still children, instructs Sarah that she should free Handful someday. Charlotte likes to sneak off of the plantation and is clever enough to hire herself out so she is able to earn money on the side that she puts away with the dream of eventually buying her freedom.
Neither Sarah nor Handful have the lives they dreamed of living. Sarah Grimke was an advocate for slaves, spending her life working for their freedom. I love the historical fiction genre, but knowing that this novel was based on real people and events made it even more interesting and meaningful.
I can't imagine anyone who reads The Invention of Wings not being totally swept up in this story. Amazing!