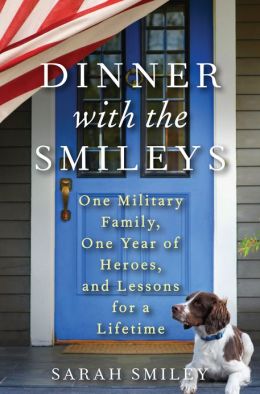 I've read a few books about the importance of family meals (Bruce Feiler's The Secrets of Happy Families and Dinner: A Love Story by Jenny Rosenstrach to name two) and grew up in a home where my mother often said, "A family that eats together, stays together."
Sarah Smiley, her husband Dustin, and their three boys, Ford, Owen and Lindell enjoyed family meal times - one of their rituals. When Dustin was deployed to Djibouti for a year, their daily meal without Dustin seemed like a lonely proposition- and something that just highlighted the fact that they were without him. Sarah was juggling many different roles - mother, chauffeur, student (working on her masters degree) teacher, and also trying to fill the void Dustin left. Even before Dustin left, the family had a brief discussion about the idea of inviting someone over to fill Dustin's chair at the table.
Although this idea didn't immediately lead to a plan of action -as Sarah adapted to life without her partner and Dustin reminded her from Africa about the idea of inviting a dinner guest, she eventually organized weekly dinners with a variety of people. Various local celebrities, the boys' teachers, their minister, and even the boys' friends were all invited to eat with them.
Dinner with the Smileys was about more than just a meal - and even about more than just keeping a family missing their father company. Sarah and her boys became aware that they had the support of their community while Dustin was deployed. And it wasn't necessarily the food that kept guests coming or what anyone remembered when they left. Instead, they remembered the conversation and the time they spent together.
Sarah Smiley is someone I felt like I knew- she is able to reveal her flaws without shame, and doing so made her seem very human - and like someone I could call up and talk to. Several years ago now I enjoyed reading Going Overboard: Misadventures of a Military Wife by Smiley and was happy to check back in with Sarah and her growing boys.
Visit Sarah yourself at
SarahSmiley.com