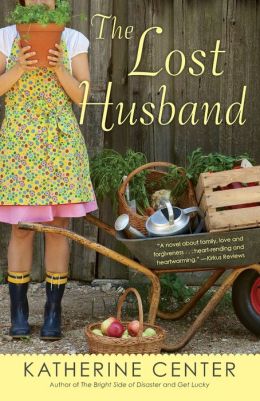 Just yesterday I finished up my second Kindle book of 2013. I was happy that last year I managed to read more on my kindle than any time previously, but still want to turn to it a bit more. Especially when I have so many books from netgalley waiting for me.
The Lost Husband is Katherine Center's newest novel, one of my previous Waiting on Wednesday posts.
Libby Moran's husband died in a car accident, leaving her alone to pick up the pieces and raise two young children. Although moving back in with her mother has helped her financially, the two are not close. When Jean, Libby's aunt who she hasn't seen in years, invites her to move to her farm, Libby seizes the opportunity.
Of course there's a bit of humor in this story, as the cows are named after famous people- Eleanor Roosevelt, Amelia Earhart - and overalls are the typical fashion choice. Libby adjusts to life on the farm - milking cows and making cheese- as her kids adjust to a new and more carefree way of life themselves.
O'Connor, Jean's hired hand, is not only handy, but handsome, hiding his good looks under a tangle of hair. As Libby spends more time with him, she can't help but be attracted to him only to realize there is a huge obstacle - O'Connor's disabled wife, who he is caring for "until death do us part."
There's also the issue of the school bully picking on Abby, Libby's daughter, because of a limp she has as a result of the car accident that killed her father.
And, if that isn't enough, Libby has overheard Jean talking about some secret she isn't ready to tell Libby yet.
One of the reasons I like Center's books so much is the fact that they are easy to get into and feel almost like chick lit, yet still have more depth to them than a chick lit novel. The Lost Husband is another great addition to Center's growing collection of work.