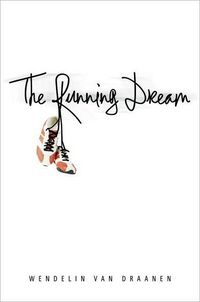 Last night we had a sleepover at our house, which in some ways means less reading time. However, since I stay up until the girls go to sleep, I have a bit of extra reading time by myself - as long as I'm not listening to what they are doing in the basement or refereeing a disagreement. My March reading has started slower than I would like, but last night I started Wendelin Van Draanen's newest book, The Running Dream, and could hardly put it down.
When I was in high school I read Cynthia Voigt's book Izzy Willy Nilly, a young adult novel about a girl who loses her leg in a car accident. Although my memories of the specifics of this book are hazy, now - almost twenty years later- I can still remember portions of it. The Running Dream reminds me of this a bit.
When the bus that Jessica and the track team are riding on is struck by a car, Jessica's leg is mangled and amputated - too crushed to be fixed. One athlete, Lucy, is killed in the accident. The rest of the team receives minor injuries. Jessica is left with the task of learning how to cope without a leg- and without running, her passion. Although Jessica suffers a few moments of "why me?" she continues to go on with her life, especially with the support of her good friend, Fiona. Jessica also dreams of running again, yet doesn't believe it is possible. When her coach invites her to watch a video of different athletes running using a special type of prosthetic, she begins to think that running may again be possible for her. The track team undertakes a large fund raising effort with the goal of $20,000 to buy a leg for Jessica to run. Local interest in this inspirational teenager gets donations flooding in, and instead of taking all the glory for herself, Jessica chooses to shed some attention on her new friend, Rosa, a high schooler with cerebral palsy.
This book is uplifting and hopeful, a great story about perseverance, moving forward in life, and looking for the positives in the hand you've been dealt. I loved this book as an adult, and would have loved it as a teen reader. Van Draanen has managed to craft another winner.