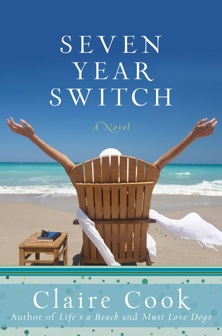 Several years ago I discovered Claire Cook's first novel, Must Love Dogs, and really enjoyed it. Since then I have made it a point to read anything more she has published- with her books coming out in the summer, they have always been marketed as good beach reads. While I loved Must Love Dogs, I have felt a little let down each time since, not ever connecting with the characters or plot in subsequent books. This summer Seven Year Switch has proved again to me why I have continued to read Cook's books.
Jill is a single mother, raising her ten year old daughter Anastasia. Seth, her ex-husband, who abandoned the family seven years ago, unexpectedly shows up after having no contact with them for this entire time. While Jill feels anger toward her ex, she does not want to deny her daughter a relationship with her father, and welcomes him back into their lives. While Jill has never really moved on with her life, harboring bad feelings toward Seth, she meets a client through her work as a travel guide, who she is interested in.
While this story has romance in it, I wouldn't classify it strictly a romance. There are so many other elements - Jill finding herself and what she wants out of life being a main focus; the romance is only part of the story. I also had a hard time deciding who I wanted Jill to end up with. Bill, who she met through work, seems like a fabulous guy, but her ex, Seth, despite his deserting the family, has come back and worked hard to make amends. In the end, Cook finds a resolution that satisfies readers.
This was a fun read, enjoyable and entertaining. A perfect book to take to the beach.