Although I love summer, I can't help but get a little bit excited about back to school shopping. I love school supplies and getting a few new things to wear. I'd like it even better if we could push back the back to school shopping until say September or October.....I am just not quite ready to be thinking of the rat race starting up again.
1. JCrew Striped Pajamas Set - I decided long ago that I would not spend money on pajamas for a few reasons. First of all, I get up and exercise every morning, so I mostly wear my exercise clothes to bed....it's one less thing to have to do in the morning and one less excuse I have to skip working out. It's also one less thing to buy or keep up with. However, part of me is wishing for a pair or two of pajamas in the event that I ever want to wear some to bed. I like this pair for the summer months, and of course I would have to find something much warmer for winter.
2. Robyn Jersey Tee - I bought a few similar Ts from Boden a year or two ago. I like how light weight they are and the foil on them make them seem a little bit dressy. This is this year's version.
3. Denim Indigo Floral Shirt -I love denim and although I have a several denim shirts, I don't have any with a pattern on them
4. Popover in Bold Stripe - and the popover is one of my standard items....this striped one is JCrew's newest version.
5. Girlfriend Twill Stripe Chinos - I love my white pants, and I love the many colors of girlfriend chinos I already own. This combines these two things together and just might be one of my must-haves for fall.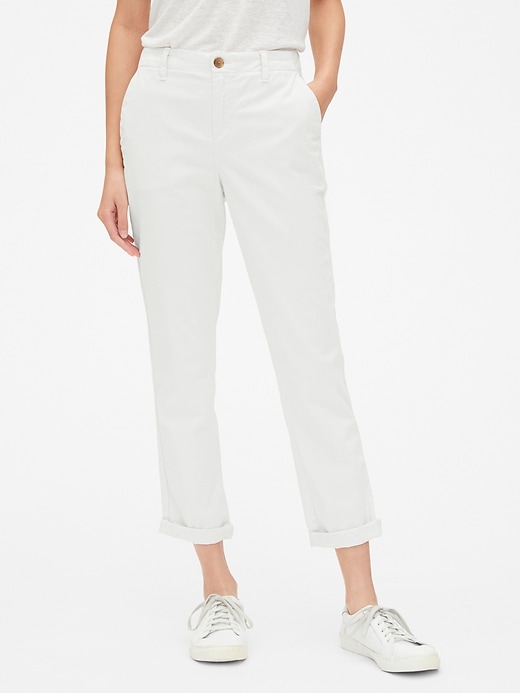 6. Seersucker Ruffle Shift Dress - Draper James has a few variations of this dress. I wouldn't mind the denim version, but also think this seersucker version would be a nice change of pace.
7. Read Return Repeat TShirt -I've decided I can't ever have too many library shirts. Here's the newest one I want for my collection.
8. Tie Front Tank - I like the tie front shirt, and this one looks so comfortable.
9. Chaise Lounge - one of my couches has been well loved - by our family and our dog. It is time to find something else to put in the corner where our couch has resided for several years. I'd like to switch things up a bit and wouldn't mind doing some painting or changing the color of our decor. The problem is I can't do all of it at once. So instead of buying an oatmeal/tan/brown chair I am looking at getting a gray one and eventually replacing our furniture with some grays, and repainting the wall that is brown, a navy blue. This may all take years. Baby steps, I guess.
10. Best of Enemies Movie - I've been waiting to see this movie for several months. I checked it out from the library but apparently I have no clue how this works because when I finally sat down to watch it, I realized I couldn't just check it out on my own, I had to take it to the desk and have them remove the plastic case around it. Guess I won't be watching this movie after all. I might just break down and rent it from Amazon tonight.
That's it for me this week. What's caught your eye?