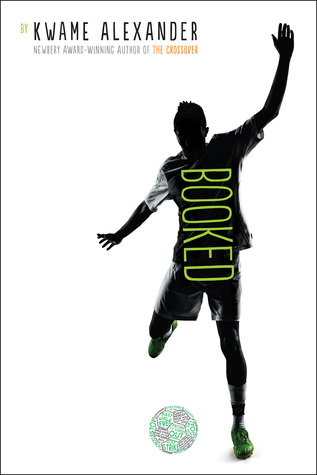 Kwame Alexander's novel Booked was published last week and having read it a few months ago, I've been anxious to hear what other readers think of it.
Called a follow-up to The Crossover, I originally thought that Booked was a sequel to Alexander's Newbery winner. However, Booked introduces us to a new cast of characters and focus.
Nick's passion is soccer. He's twelve, dealing with his parent's separation and divorce, a crush on a girl, and with his father's expectations about school.
I liked the extra footnotes at the end of pages giving the definition to a new or unusual word, which worked well with Nick's dad's fascination with words. Alexander did a good job of adding this feature without it seeming too educational or teacher-y.
Booked is another great novel in verse. I loved, loved, loved The Crossover, and perhaps my expectations were a bit unrealistic for this novel. I really liked it, but I wasn't as amazed by this books as I was by Alexander's Newbery winner.
I am still planning on recommending this to my tween readers, both boys and girls.