Katarina Bivald's novel The Readers of Broken Wheel Recommend is a feel good novel that every book lover should read. It ranks right up with The Guernsey Literary and Potato Peel Pie Society and The Storied Life of AJ Fikry, two other books for bibliophiles.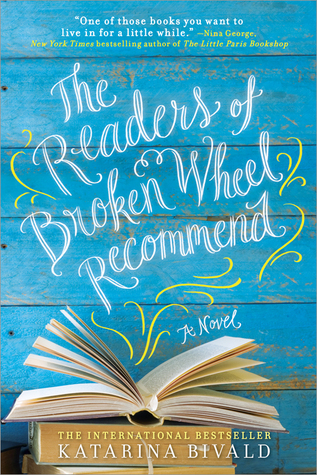 Set in Iowa, it also holds a special place in my heart as it refers to towns and places that I know personally.
Sara has traveled from Sweden to meet Amy, the woman she has met only through their letters they have exchanged ever since one of them purchased a book from the other. When she arrives in Broken Wheel she discovers Amy has died.
However, the residents of the town welcome Sara like an old friend, and Sara feels as though she knows many of them from the things Amy told her in their letters.
Broken Wheel, however, is barely a town. The storefronts on Main Street are empty and it appears that the town has seen better days.
Sara decides to stay for a bit, having nothing to return to in Sweden. She has always enjoyed books more than people, and decides to take Amy's books and open a bookstore on Main Street. The people in Broken Wheel aren't big readers, but Sara works to change that, recommending books to all who come to her store.
Somewhere along the way, Sara falls in love with Broken Wheel and its residents.
Bivald's book references are sprinkled throughout the novel, and I have a few new titles to add to my TBR list simply from reading this book.
The plot is predictable, but charming and worth taking time to read. I read the last page of this novel with a smile on my face.
The Readers of Broken Wheel Recommend is a perfect feel good book and will make a great gift for book lovers as well.