Dan Geimenhart's first novel The Honest Truth received lots of praise and publicity. I read it with my fifth grade book club last year, and all of the members enjoyed it. So, when I saw Some Kind of Courage by Dan Geimenhart set to be published in January, I was immediately intrigued.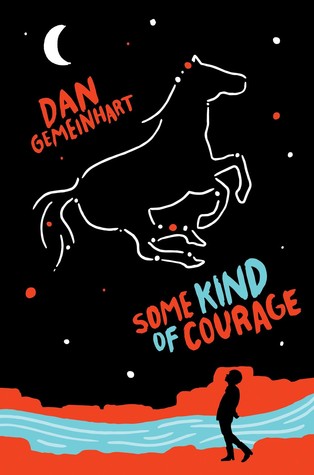 Unlike his first novel, this is a work of historical fiction. Yet despite this difference, there are some commonalities between the two books. Both have male protagonists who have set out on an adventure, and both will tug at your heartstrings.
Joseph has set out to find his horse, Sarah, that has been wrongly taken from him. He's alone in the world after most recently losing his Pa, and Sarah is all he has left of his family. As he sets out to reclaim his horse, he meets up with Cheng, a Chinese boy. Although Cheng doesn't speak English the two are able to communicate enough to continue together and watch out for each other.
And they need each other as both are alone in the world. The two encounter many obstacles along the way, but the various challenges cements their friendship.
Sarah is a horse worth risking everything for, but even with his horse, Joseph is still in need of a family.
Put Some Kind of Courage on your must read list for 2016. Perfect for tweens- boys and girls- and possibly even better than The Honest Truth. This has left me hoping to hear more from Geimenhart soon.