When I first saw this title on Net Galley, I thought that perhaps this book would give some advice on a more frugal lifestyle. This is not that book.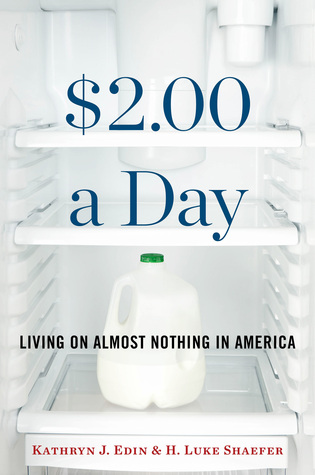 In $2.00 A Day, Edin and Shaefer share through various examples of different families how the poor manage to stay alive, living well below the poverty line. These people are not lazy as many often imagine. Instead, they are people who are down on their luck and are looking for a job that provides a living wage for them and their children. Some are creative in their ability to provide free entertainment for their children- the library is a place they frequent and they take advantage of things like free movies in the park.
$2.00 a Day provides the back story on welfare reform in this country and through the people they have profiled it is easy to see that there are still may changes that need to be made.
This book shares real life examples of how families in America are forced to live on almost nothing and eke out their existence. There are other books that cover this same topic such as Nickel and Dimed by Barbara Ehrenreich.
And Hand to Mouth by Linda Tirado
$2.00 A Day is a great addition to this collection of books on the problem of the working poor. However, it is unfortunate that more than a decade after Ehrenreich's book was published, there is little to no change in the way this group of people is able to live in the United States.