Meg Mitchell Moore's newest novel was a delight when I read it on my kindle over vacation. Set to be published tomorrow, it is perfect for women's fiction fans.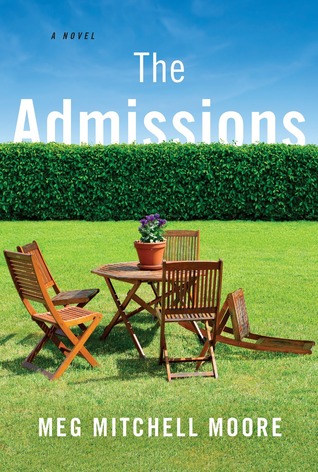 The Hawthorne family take turns narrating their story throughout, along with some help from various minor characters giving a true picture of the family at the center of the novel.
Angela is a senior, a high achiever, and doing anything she can to get into the college of her choice. Her biggest hope is to be admitted to Harvard, her father's alma mater. But the pressure is fierce and Angela is feeling more and more like she is losing her hold on the valedictorian position.
Nora, as a working mother, is feeling herself stretched to the limits. Her real estate job is something she excels at, but she is worried about her youngest daughter who is eight and still can't read, she fears her husband may be having an affair, her middle daughter is experiencing some growing pains of her own, and she is dealing with some stress at work that she is trying to deal with on her own, not wanting to admit her responsibility in the problem.
Gabe Hawthorne has worked for the same law firm since he graduated from law school. Nora has things under control at home, which allows Gabe to focus on his job. However, he is hiding something big that eventually must come out.
All of this begins with a look back at this family after Nora receives a message from a police officer at the Golden Gate Bridge that she must come there quickly. I appreciated the suspense and was immediately immersed in the lives of the Hawthornes.
I loved the Hawthornes with their flaws and their attempts to shield each other from worry, all the while watching their problems become bigger. Meg Mitchell Moore's Admissions is a book I'm eager to share with friends.