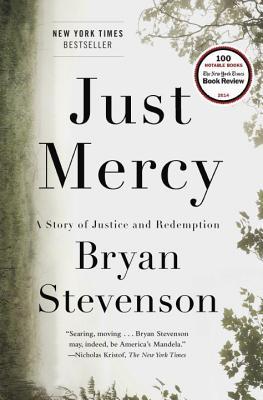 I think it was a few years ago now that I last tried to "read"/listen to an audiobook. The experience was not successful. When I listen to audiobooks I find myself daydreaming about all kinds of important stuff- like what I'm making for supper.
However, after thinking about it, I decided to try it again. After all, I could really increase the number of books I read if I could use the time I spend driving to and from my job listening to a book.
Just Mercy: A Story of Justice and Redemption by Bryan Stevenson was narrated by the author himself, which I enjoyed.
Stevenson is an attorney who has committed his life to helping death row prisoners who have been wrongly convicted. As an intern he first visited a death row inmate, sparking an interest in what became his life-long work.
One man, Walter, became a special friend to Bryan over the years he worked to free him from death row. Walter had been at a barbecue at his home where he interacted with many people during the time a murder took place at a local dry cleaners. He was arrested and eventually condemned to death row. Hearing the evidence (or lack thereof) and the gross miscarriage of justice that occurred in Walter's case makes Stevenson's book so important.
As one of the many bits of research points out, in a crime where the victim is white and the offender is black, the offender is eleven times more likely to end up on death row.
Stevenson looks at not only Walter's case, but explores children who commit crimes that have ended up in prison for life and on death row and also mothers.
I was amazed by the sad stories Stevenson told, and disappointed in our legal system.
Overall, this was a great audiobook for my first time enjoyng a whole book this way.
My second audibook was an entirely different kind: Eleven on Top by Janet Evanovich has been my most recent audiobook. This has also been enjoyable and entertaining listening experience. I don't have nearly as much to say about this novel as I did about my first audiobook, mostly because this is total mind candy.
The twenty-second book in the series is coming out this summer, and listening to one on audio got me back in the groove of them. However, I would say that for me, I enjoy non-fiction audiobooks more at this point. The voices of various characters were not how I imagined them, and I was very restricted as to when I could listen to this book. The language is not child friendly at all, so my normal inclination to turn the book on while driving was not a good plan while I was transporting my kids.
I'm not sure I pay attention to every single word of audiobooks, but I'm working on it, and try to reign my thoughts in when I start mindlessly developing my grocery list in my head instead of listening to the book that is playing.
Next up on audio: