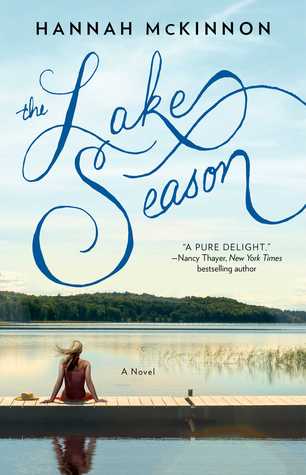 The cover of this book screams summer to me, and choosing it as one of the first books I read after school let out this spring was a great choice.
This is a first adult novel by Hannah Roberts McKinnon, but I have read and really enjoyed both her middle grade books The Properties of Water and Franny Parker.
In Lake Season Iris has gone home a few weeks before her sister Leah is to be married. Married herself with three children and a career in publishing, Iris hasn't been home in a few years and is impressed with the farm stand that has become a booming business at her parents' home.
Although her family isn't aware of it at first, Iris needs this break desperately. Her husband has told her he wants a divorce.
As Iris and Leah spend time together it is easy to see the prickly-ness of their relationship, and clear to Iris that something isn't quite right with her sister.
The time away is helping Iris relax. She has also become reacquainted with her former high school crush, Cooper, who works at her parents' business. The two rekindle their friendship, and once Iris is aware that her marriage is over, they no longer need to remain just friends.
But nothing is ever easy, especially relationships. Iris and Leah struggle with their relationship as sisters and how they can best help each other. And despite the divorce papers Iris is served her marriage might not be over. Iris is left to contemplate her future with and without her husband and if her relationship with Cooper can move forward.
These are complex characters with no easy answers or solutions. McKinnon's characters have depth and feel real. Lake Season is a wonderful women's fiction debut from McKinnon.