Already this week I have reviewed two fantastic beach books for this upcoming summer. However,
Jane Green's novels are also the perfect book to take to the beach with you. Her latest book, Summer Secrets, will be out just in time for readers to pack it to take along with them to enjoy over the summer months.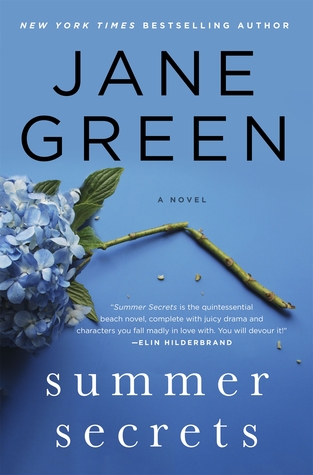 Moving between 1998 and 2014, we see Cat, a sometimes recovering alcoholic - and sometimes drinking alcoholic- navigate dating, work, marriage and motherhood, never quite getting her disease under control.
When she finally meets her biological father, her alcoholism becomes a bit easier to explain as he struggles with the same demons. However, even though the two have that in common, her father isn't able to allow Cat to stay with him after what she does to her half-sister Julia whom she has just met.
Banished from Nantucket where Cat met her father, Julia, and Julia's older sister (another half-sister) Ellie, Cat spirals out of control.
Green's novel didn't provide any new insight into alcoholism and follows the formula of her other novels, but despite the fact that the story was a bit predictable, I enjoyed Summer Secrets, which should be a big beach read over the summer months.