Cynthia Hand's novel The Last Time We Say Goodbye was everything I could have wanted in a young adult read. It is one I will be pressing into the hands of every book lover I know.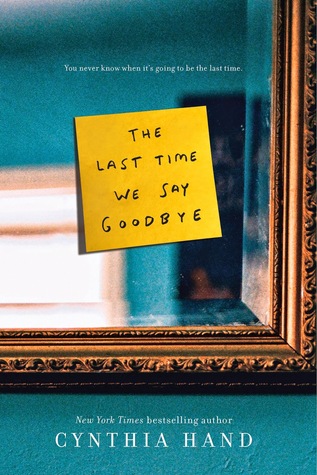 Lex is trying to come to terms with her brother's suicide. Just two years younger than her, she and Ty had always been close. Many of her childhood memories are of the two of them together. As a way of dealing with her grief and trying to move on, Lex is seeing a counselor who wants her to write about her brother and her feelings in a journal.
Through the journal and memories, we are able to know Tyler for the sensitive and smart brother Lex has grown up with. We are also able to understand their family's past, the hurt they still have from their father leaving them, and the way in which this impacted Tyler and Lex.
Lex is a brilliant student, looking forward to college and hoping to be accepted to MIT. Her passion is math, and she loves that this is a subject that follows rules and is predictable.
Ever since her brother's death Lex has pushed her friends away. It is clear she blames herself for something that she feels would have made a difference in her brother taking his own life, and has even broken up with her boyfriend, Steven.
As the novel unfolds, more is revealed about the day Tyler died, and we can feel Lex's heartbreak and despair when she learns he has killed himself.
I so appreciated Hand's note at the novel's end explaining that her own brother had committed suicide when he was seventeen and she was twenty. The story she has created is fiction, yet the feelings and emotions are so believable because Hand has experience with the loss that Lex experiences.
I rarely re-read books, but I would happily read this entire novel again to lose myself in this story and the characters.