Every year my students that participate in book club read The Breadwinner by Deborah Ellis. Parvana, the protagonist in this story, dresses like a boy after her father is arrested and someone must get water for her family and earn money for food.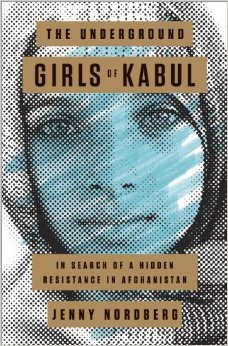 The Underground Girls of Kabul by Jenny Nordberg is an interesting look at the practice of dressing girls like boys in Afghanistan. Nordberg focuses on a few women who she talks with and whose stories she can share.
Azita is one such woman, unusual in the fact that she is the breadwinner of the family. Encouraged by her father as a child to be educated, Azita is especially devastated that she is married off to an illiterate cousin to help protect her family. Somehow despite many setbacks, she is able to obtain a position of prestige in the Afghan government as a representative from her home district. After giving birth to a fourth daughter Azita decides to dress and treat her last child as a boy, giving the family a better status.
Through conversations with women who once dressed as boys who are now adults, Nordberg collects as much data she can about this practice of bacha posh. She manages to give a different perspective on the life of females in Afghanistan and their subcultures.
The Underground Girls of Kabul is an interesting and engaging non-fiction book that I found hard to put down as I became involved in the stories of different women.