I remember playing 'telephone' a few times as a child. You know. The game where someone whispers a message to you and it is passed down to many listeners. The last person to hear the message repeats what he hears, often very comically different than the original message.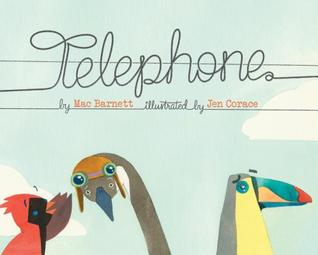 Telephone by Mac Barnett is the perfect book to read aloud with your children. And once that is done, you will spend the rest of your day playing 'telephone' with them.
The first message from one bird to another as they sit on a wire, is to tell Peter to go home for dinner. From there the message changes to all sorts of humorous rhyming things: "prop planes are for fliers," "lobsters are good hiders," to name a few.
And yet, the very last bird sends the correct message to Peter.
Funny stuff. I couldn't help but laugh as I read this book to myself. And my girls had a great time with it as well. We finally had to call off our own telephone game in order to get a little homework and cleaning accomplished. I can't wait to read this to kids at school after we play telephone ourselves, of course.