Middle grade realistic fiction is absolutely one of my favorite genres, and I am always so frustrated when all I see lining the shelves of the public library are fantasy novels. Especially since that would have really frustrated me if that is all that was out there when I was growing up.
So, I love it when I see a great new realistic fiction novel for middle grade students.
Nest by Esther Ehrlich will be out in just a few days, and I was lucky enough to have an ARC on my kindle.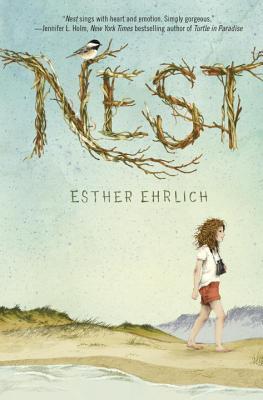 Chirp (Naomi) and her older sister, Rachel, live on Cape Cod with their parents in 1972, growing up happily. Their father, a psychiatrist, enjoys having conversations with his children, and his dancer wife has made a happy home for the family.
And then, Chirp's mom is diagnosed with a serious illness. Not only must everyone adjust to this new normal, but Chirp's mom must also deal with the depression that comes with the diagnosis.
This is kind of a heavy book (I seem to gravitate toward those), as Chirp and her sister try to deal with the many changes happening at home. Ehrlich's writing is perfect, capturing what Chirp experiences beautifully.
I'll be passing this off to my middle school daughter, knowing she will fall in love with Nest as I did.