Book lovers everywhere should grab a copy of Gabrielle Zevin's latest book. I've read some of Zevin's books before, and there are a few I enjoyed more than others, but The Storied Life of A.J. Fikry is going at the very top of my list. Love, love, love!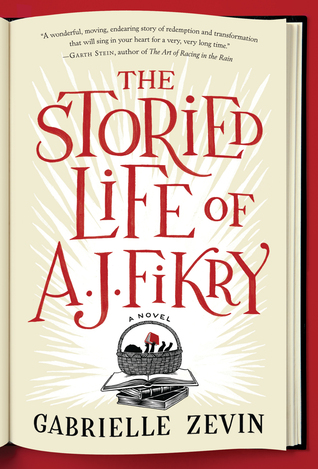 I'll tell you that even after I read the inside flap I was skeptical. I don't love the cover, and Zevin is a name I associate with fantasy/dystopian writing. Imagine my surprise when I began reading and couldn't put this book down.
A.J. Fikry and his wife decided to open a book store on Alice Island, and life is good. And then Fikry's wife dies in an accident, which also kills their unborn child. Now Fikry has alienated himself from nearly everyone, although he does still communicate with his wife's sister, Ismay.
Amelia, the rep from Knightly Press tries to recommend some new titles to Fikry when she stops at his book store, but there are a lot of books he isn't interested in - or actually, just a few kinds he is interested in.
When a child is abandoned in his book store with a note asking him to please keep her and raise her, Fikry's life begins to change for the better. He and his bookstore become a mainstay of their small island community. And life is good.
This is mostly a feel good story, although there are some challenges and sorrows thrown in - along with a lot of book titles and references that the reader in me fell in love with.
If there is a book this summer that surprised me, that I fell in love with, that I have been telling others to read, The Storied Life of AJ Fikry is that book.