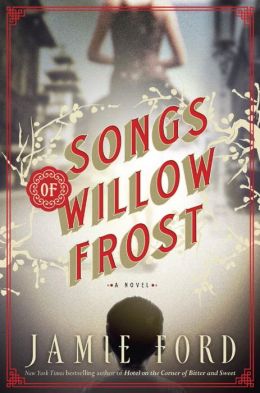 I absolutely fell in love with Hotel on the Corner of Bitter and Sweet by Jamie Ford, and have checked several times since I read it to see if he had any books soon to be published. I've been waiting for Songs of Willow Frost for a while now, and was excited to read Ford's sophomore novel.
Set in Depression era Seattle, Will is abandoned by his ah-ma, living in a convent orphanage. He has never really known what happened to his mother, but dreams of finding her someday. And one day, as he watches a movie, he sees her on the screen- a beautiful actress known as Willow Frost.
Will begins to look for Willow Frost, wondering why she left him. His friends Charlotte and Sunny, both living at the orphanage, encourage Will. And so he begins searching.
Willow also has a story to tell, and her account that she shares moves from 1921 until she and Will are reunited. Sorrow seems to follow Willow, despite her rare talent for singing, and the choices she must make to ensure that Will's future remains hopeful, are difficult.
Initially I wasn't as in love with Songs of Willow Frost as I was with Hotel on the Corner of Bitter and Sweet, but as I read, Will and Willow's stories grew on me, and I became sucked in. There were a few times where I wanted to page ahead and see if Ford allowed Will and Willow a happily ever after, but I resisted, and was not disappointed by the way in which Ford concluded his second novel.