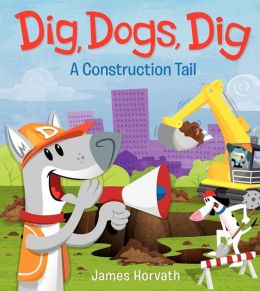 Dig, Dogs, Dig: A Construction Tail is a cute, rhyming book about a group of dogs that build a park.
A variety of different cool machinery is used in building this park
-
bull dozer, loader, crane - as the dogs work together.
While I instantly thought of my two year old nephew when I read this book to myself, it is my kindergarten daughter who is really enjoying this book and asking for me to read it again and again. She loved looking at the various dogs as they worked, and enjoyed seeing each colorful page. Dig, Dogs, Dig, is a fun read aloud - one I will be adding to my school collection and sharing with my students in the fall.