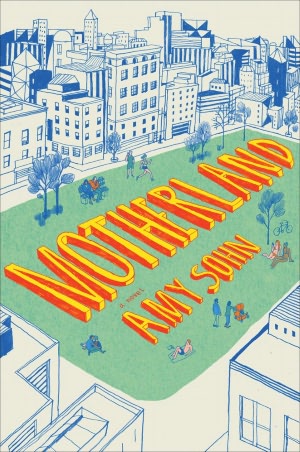 I loved Amy Sohn's smart, funny mommy-lit novel Prospect Park West a few years ago. The same characters return in Motherland and are equally as entertaining to read about. I found myself chuckling at their ability-or lack thereof- to problem solve and make decisions about their lives and relationships.
Sohn captures a bit of what I imagine a group of moneyed nearly forty-year old couples lives are all about in New York City, while also adding a bit of hilarity and incredulity to her story; it seems a little over the top, but in a good way.
A few years have elapsed since Prospect Park West ended, and Melora is no longer with Stuart, the producer. The two are splitting custody of Orion and Melora is trying to resurrect her acting career.
Gottlieb and CC's marriage is shaky. Although CC is confident her husband would never cheat, he doesn't seem to enjoy being a parent very much, either, and is busy trying to sell a screen play.
Rachel is happy to be back with her husband, Theo, after her fling with a famous producer. However, when she runs into him over the summer she can't get him out of her mind, and suddenly the paternity of her youngest child becomes an issue she tried to ignore.
Marco and his partner Todd are about to adopt a second child. Marco is unhappy with this development and turns to drinking to cope as the relationhship flounders.
Karen is newly separated from her husband, unhappy with being single. As she explores ways to make money and the dating scene again, events occur that lead her to learn a few things about herself.
Sohn's look at these five couples could truly be written into a hilarious, and honest, look at parenthood in NYC today. I loved this book and loved meeting up with the characters again. Motherland could definitely be read as a stand-alone title, but having already felt a part of these characters' lives, this follow-up to Prospect Park West was entertaining and engaging, and has left me hoping that Sohn will continue to allow us to check in with this group of lovable, and somewhat dysfunctional, people. Although it's been several years since I've read anything by Candace Bushnell (Sex in the City), Sohn's writing and material remind me of Bushnell's novels.