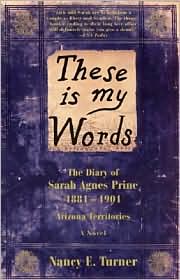 If you have looked at my sidebar in the last two months a picture of These Is My Words by Nancy E. Turner has been up as my book that I am currently reading. No, I didn't forget to change book pictures, although that has happened before. I truly have been reading These Is My Words since before Thanksgiving. Highly, highly recommended by Janssen at
Everyday Reading
, I knew I would enjoy this pioneer story. After all, I grew up reading and re-reading the Little House books and Janett Oke's Love Comes Softly series. When I saw Janssen's glowing endorsement of this book and realized it had been on my TBR shelf for almost ten years I knew I needed to read it. However, I have this rather strange quirk where I have certain books I designate to be read only at certain times. I have a book on my treadmill while I run. And I have a book on my Airdyne when I bike. And for the mostpart I do not take those books with me to read anyplace else unless I am soooo close to the end that I know the next reading will not get me through an entire workout. Since I had These Is My Words on my treadmill it has not been read on a daily basis, and even survived a three week hiatus from running.
Sarah Agnes Prine is a plucky, feisty heroine. This book spans two decades, from 1881-1901 as Sarah and her family make their way west before finally settling in the Arizona territories. Sarah goes from a teen age girl to a married woman and mother. Her diary is a testament to hard work and persevarance as well as hope.
Although Sarah does not have much formal education, she longs to learn more and is elated when she comes across a wagon of books left along the trail. Sarah takes what she can, eager to learn more. While life out West is hard - there is sickness, death, attacks by Indians -Sarah continues to write in her journal. She especially longs for the one book that Jack Elliott, an Army man, took. While she has tried to find a way to reclaim it, Elliott continues to find reasons why the book should remain with him. It seems that everyone in Sarah's family (and myself) could tell long before Sarah that Jack had feelings for her. She continues to ignore his advances, eventually marrying another man. Still, since this book spans decades, it is easy to see that Jack Elliott won't give up that easily.
As a reader I was entertained by Sarah's ideas and attitude, wishing for her to find happiness and love with Jack. Romance is not my genre of choice, and These Is My Words is not a romance. But, there is definitely some romance in it - and the old-fashioned way in which this romance is lived out is perfect. This book spans two decades and Sarah grows and changes as she ages and because of different events in her life. Although this is a work of fiction, Turner's characters were so genuine and human that they seemed real. I am so looking forward to reading Sarah's Quilt, the sequel to These Is My Words.
I agree with Janssen that this one is a must read, a true gem.