Waiting on Wednesday is hosted by Jill at
Breaking the Spine
.
This week's pick:
Two Kisses for Maddy: A Memoir of Loss and Love by Matt Logelin
Release Date: April 14, 2011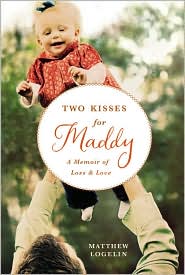 Product Description from Amazon:
Matt and Liz Logelin were high school sweethearts. The pair settled together in Los Angeles and they had it all: the perfect marriage, a beautiful new home, and a baby girl on the way. But just twenty-seven hours after they welcomed Madeline into the world, Liz suffered a pulmonary embolism and instantly died, without ever holding the daughter whose arrival she had so eagerly awaited.Faced with devastating grief and the responsibilities of a new and single father, Matt coped by returning to the small blog he had created to keep friends and family updated on Liz's pregnancy, which today has become a place for him to share with over a million curious readers the day to day of two lives bound by loss and love. But there is more to his story than just raising a daughter alone: Matt Logelin is an extraordinary human being. Having been sustained through tragedy by the kindness and generosity of strangers, he is now dedicated to helping others in difficult situations by reaching out and inspiring those facing loss or adversity. A heartwarming and heartbreaking story punctuated by beautifully recollected-- and often humorous-- memories and anecdotes, TWO KISSES FOR MADDY unquestionably has something to offer any reader who has experienced grief, and has sought the courage to live again.
To read more about Matt and Maddy, check out their
website.