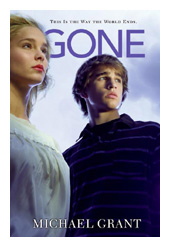 Every once in a while I try to branch out a bit and read something that I wouldn't normally pick. Sometimes this is a great thing and I am happily surprised by how many wonderful books are out there that I often overlook. And other times, my love of realistic fiction is reaffirmed.
Gone by Michael Grant is a YA dystopian fantasy novel that is fast paced from the first page. Initially I was taken in by this novel, which seemed to be a bit like the Left Behind series - only in this book it is the children ages fourteen and under who are left behind. With the adults gone - no one knows how or why - the kids must try to survive on their own. In addition to issues with survival, two groups of young teens pit themselves against each other. With no structure and rules they will do whatever it takes to survive.
I was initially intrigued by the story. But then when animals started mutating, things just became a bit too bizarre for me. As I was reading last night, I had to chuckle at the beginning of one of the chapters:
"It had been two days since Lana survived the coyotes. The talking coyotes. Two days since her life had been saved by a snake. A flying snake (284)."
Just a bit too strange for me. This is a long book, too. And while I didn't love, love it, I was Ok with it at first. As it continued, I grew to hope I would finish it soon. I can see how teen readers would love this book, though. It is fast. It is suspenseful. This book seemed like it is made to be a movie. And, at book's end (which I will admit to skimming the last hundred pages), the story iss still not resolved, because this is just the beginning of a series.
Will I read further in the series? Probably not. Will I recommend these to some of my readers? Of course. There is definite appeal for some of my students.