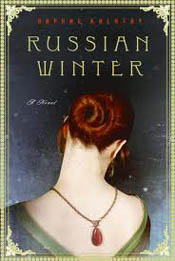 Nina Revskaya was a famous ballerina in Russia. Now in her seventies, her body is old and she is confined to a wheel chair. In her declining health Nina decides to sell her vast collection of jewelry. Many of these pieces bring back memories for Nina- some happy and some painful. Russian Winter alternates between the present day and the past when Nina spent her years as a famous ballerina in Russia. During Nina's early adulthood Russia was under Stalin's rule, and Russians were living in fear as different people disappeared, never to be seen again. Despite all the turmoil in the country, Nina's life seems to be rather ideal - she is married to a famous poet and has a group of young and attractive friends.
In addition to Nina's story, Drew, the woman in charge of the auction has her own storyline as does Grigori, a Russian professor.
Kalotay's book is fast moving, gaining in suspense until the end as the secrets Nina kept are revealed. These secrets - things that occurred decades earlier - continue to make an impact even in the present.
I enjoyed this book a great deal, yet writing a review of Russian Winter is difficult without giving away too miuch. Because it spans many decades and also involves many characters there are many layers to this story. Kalotay's novel is a great women's fiction read and should be a popular book club choice.