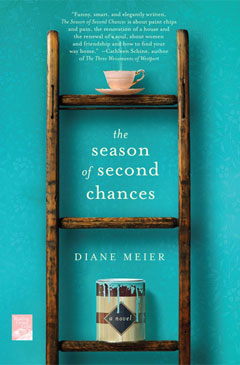 I seem to be making a habit of cramming the reading of an entire book into just one day. Yesterday afternoon it wasn't until three pm that I noticed that The Season of Second Chances by Diane Meier was due on Monday at the library. I had tried to renew it earlier in the week, and again yesterday, but someone had put a hold on it. Once again, any sane person would have just returned it and tried to check it out again later, but not me. I quickly started reading. After all, the book is only 285 pages. Since I was the one who suggested it be purchased (after reading several blogs that had reviewed it), this is a title I really had been looking forward to. Luckily I am a fast reader, so I knew it was possible for me to get the entire book read, yet I didn't want my husband, who was busy cleaning our garage and cleaning up the mess of a tree that had fallen over in our woods, to think that all I was doing was reading. Somehow, between little bursts of cleaning and reading, I was entirely done by 11 PM.
I am so glad I read The Season of Second Chances. This is a book that will stick with me a for a while. Joy Harkness is a professor in New York City who has decided that at almost fifty she will start over, taking a job in Amherst, Massachusetts and buying a house. What she finds in Amherst is a group of people that she can call friends- something missing from her life until this point. Joy has never formed relationships with people, simply relying on herself and being satisfied with her solitude. Joy doesn't set out to make friends in Amherst, yet that is what happens, as a teaching colleague takes her under her wing. Joy's handyman, Teddy, slowly becomes a friend as well, as he fixes her run-down home, spending most of his time working on it. And when her relationship with Teddy becomes romantic, I so rooted for Joy to find happiness.
Joy learns a lot about living after she arrives in Amherst, and watching her transformation is uplifiting. Of course, I wished for a fairtale ending, yet the ending Meier creates is thought provoking and true to real life. If you're looking for a great women's fiction read, The Season of Second Chances is a good pick; book clubs could also find much to discuss in this one.