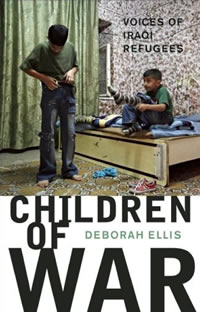 Right now my fifth grade book club is immersed in The Breadwinner by Deborah Ellis. I love this book, depressing though the story is. The kids love it, too, and while I am not sure they can truly comprehend how horrible life is for Parvana, we talk a lot about how this is reality for some children right now. Children of War is another of Ellis' books that help teach kids about a life different from their own. Ellis has included stories from many (maybe twenty-ish) different kids ranging in age from 8-adulthood and how their lives have been affected by war. Each person tells their story and what has happened to them personally. Some have left Iraq and made their homes in other countries. Many have lost their fathers, who have been killed violently. All have been affected economically and emotionally. Some have bad feelings toward the United States and the president.
It is so interesting to hear each person's unique experience and I am hopeful that students will be very interested in this personal look at children who are just like them, but who are experiencing different life circumstances that are altering their hopes and dreams and futures.
I love Ellis' work and am eager to share this book tomorrow with my fifth grade class.