In the past I have written about books my oldest daughter is reading in her free time and various books we have read for our nightly read alouds. I ran across
Rebecca Reads
, the host of this weekly meme and think I might start posting our weekly reads there as well. Sometimes our nightly read alouds last much longer than a week, but right now L is burning through books quickly so her reading is changing quickly.
Our nightly read aloud is The Tangled Web, an American Girl mystery. My oldest daughter was skeptical about this one, stating that she didn't like mysteries because they are scary, but three chapters in and she and my middle daughter are totally hooked. It has also allowed for me to make some predictions (because I am pretty sure I see where this is going) that we have talked about. Eventually I want them to be able to predict on their own, and we do that with picture books, but even though there might not be a big a-ha moment as the mystery is unraveled, they will have seen predictions modeled for them.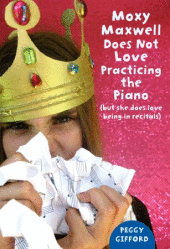 My oldest daughter continues to read on her own as well each night. She is going through the Moxy Maxwell books - enjoying each one. She giggles when the chapter title is read and there is nothing else on the page - how silly is that. I'm pretty sure she can relate to Moxy because I haven't seen L practice her piano any too frequently, either.