Yesterday I received ten new boxes of books from Baker and Taylor at my school library. Talk about excitment. These books were purchased with a Target grant I received for the library. :) I am enjoying looking through the book a bit more today because right after the boxes arrived I had to attend a meeting at a different school. I hated to tear myself away from the excitement. Now I have fifteen chapter books in a stack for me to read. I also took home five picture books last night for bedtime.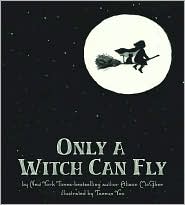 The last bedtime book we read was Only A Witch Can Fly by Alison McGhee. I had such high hopes for this one. First of all, my oldest daughter just finished Julia Gillian by McGhee, so we were excited to read something else by this author. And, I have seen great reviews about this book everywhere. However, even though I really liked the illustrations-linoleum block prints- I just could never quite get the text to work for me. I spent several pages reading passages over, trying to get them to rhyme, or sound right, and they just didn't. I might try this one again, or give it to a teacher and see what they think. The title Only A Witch Can Fly is also the last line of the book, to which my daughters responded with many examples of other things that fly. Somehow I think the story was lost on them, too.
I have so many books to review right now which is not a bad problem to have - just overwhelming. I am looking forward to this weekend when I make a trip to IKEA and FINALLY purchase much needed bookshelves. YAY!