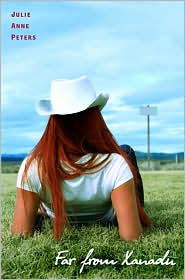 Far From Xanadu by Julie Ann Peters has been around for a few years, but is new to my library, and a book I had been meaning to read every time I read a review of it. This young adult book deals with the sensitive subject of sexuality. Sometimes I feel like there are already a lot of books out there covering this topic, and it is not one I always want to read about. However, while this is an issue in Xanadu, it is not the only issue by any means.
Mike, really Mary Elizabeth, is sixteen and a wonderful softball player. She looks and acts masculine, and happens to be gay. Her best friend, Jamie, is a boy, a cheerleader, and happens to be gay, too. (You don't know how long I was reading thinking Jamie was a girl). The small town they live in has known Mike and Jamie their entire lives and neither have felt discrimination because of their sexual orientation.
When the story begins Mike is remembering her father's death two years ago. He climbed up the water tower and jumped, leaving Mike, her brother Darryl and her mother to cope with their loss and the financial troubles that have ensued. Mike has never really grieved for her father properly. Her mother, while physically present, is self medicating by eating herself to death. While Mike thinks Darryl doesn't have much going for him, he surprises her by the novel's end.
Enter Xanadu, a wild girl being sent to live with relatives instead of being shipped off to a reform school. Xanadu is beautiful and Mike is instantly attracted to her. Can Mike get someone who is straight to return her love?
I liked this book a lot - more than I thought I would. I didn't like Xanadu very much, though. Even though she appeared to be Mike's friend, it was obvious she was using Mike and didn't really care about Mike's feelings. Mike was a likeable character, someone I was pulling for. I wanted her to come to terms with her father's death, to succeed at fulfilling her dream of getting to play professional softball, to develop a relationship with her brother, and to move on with her life.
This book was definitely worth reading....a great young adult novel about a girl facing many real world problems.