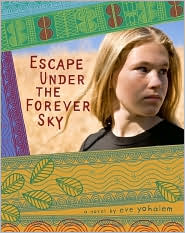 The UPS man just delivered this book yesterday, which I received via the Picnic Basket, and since I was just finishing a book up, it came at the perfect time. Eve Yohalem's first novel is set in Ethiopia, featuring Lucy, the US Ambassador's thirteen year old daughter. Lucy and her mother live in a residence inside the US compound in Ethiopia. Lucy feels like her mother is too overprotective - she isn't allowed to do anything fun while they are living in this beautiful country. Lucy is especially attracted to the interesting wildlife- lions, monkeys, hyenas - that all live in Ethiopia, but her mother refuses to let her go on trips to the bush as she wishes. Finally Lucy convinces one of their domestics that he does not need to wait at her friend's house during a visit and can just return after a few hours to pick her up. Lucy and Tana, her friend, then go to the mall by themselves. It is on this trip that Lucy is kidnapped. The entire time she is held captive only spans a few days, but Lucy is especially disheartened to find out that the embassy is unwilling to negotiate with her captors. After hearing this Lucy realizes she must take things into her own hands. Despite the wildlife, weather, and other dangerous aspects of being alone in remote Ethiopia, Lucy feels as though her best chance at survival is to escape and attempt to find her way to some civilization. Her voyage is full of suspense as well as interesting tidbits about life in Ethiopia.
This is a great suspense filled realistic fiction book for tweens. I was especially interested because the story features a child of US Ambassador. One of my uncles works for the US Embassy and my cousin, much like Lucy in this story, has spent his entire childhood abroad. And, just as in this story, my uncle was also stationed in Africa at one point. He has wonderful stories about the animals and way of life I have enjoyed listening to.
I will be looking forward to any other work by Yohalem.