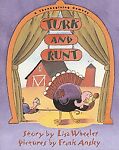 I just finished reading Motherreader's post about her favorite Thanksgiving books, and chuckled to myself that two of them on her list of three are ones I had laid out to read to my classes today. To reiterate what
motherreader
has already said, Thanksgiving in the White House by Gary Hines is one of my favorite Thanksgiving books. We have been working on recognizing the difference between fiction and non-fiction. This book has facts about the first Thanksgiving and Abraham Lincoln pardoning the White House bird, but it also has some elements of fiction, such as the conversations that Tad had with his father. Younger kids might like the story, but the older kids are trying to recognize how sometimes stories can contain facts and information in them as well as being read for entertainment.
This is the Turkey by Abby Levine is reminiscent of This is the House that Jack Built. The repetition and rhyming were commented on by the kids who heard this book.
Turk and Runt: A Thanksgiving Comedy by Lisa Wheeler is perhaps my most favorite Thanksgiving book yet. I love that there is a story kids can enjoy and jokes that even adults find funny. Turk and Runt are the children of some turkeys who don't realize that being selected by the visitors to the farm is not a good thing. Mom and Dad are busy telling Turk, their handsome and strong turkey offspring to really try and show off when these visitors arrive. Younger brother Runt is the one in the family with the brains and does his best to get rid of these people. Finally when Runt is nearly selected by a little old lady as her Thanksgiving meal his parents and brother see the light. The ending is worth a few laughs as the family finds an interesting way to hide from people out looking for their Christmas dinners.
Other Thanksgiving books that I can't seem to find because they have been checked out, but that I usually love to read out loud: Thanksgiving at the Tappletons by Eileen Spinelli, A Plump and Perky Turkey by Teresa Bateman, 10 Fat Turkeys by Tony Johnston, and We Gather Together...Now Please Get Lost by Diane De Groat. One new Thanksgiving book that I have yet to purchase, but have enjoyed looking at is Thanksgiving: The True Story by Penny Colman.