Although I haven't officially had a full week of summer vacation, I've enjoyed the few days I have had off. Here's what I've been looking at this past week now that I have a little more time to waste on the internet:
Remember way back in the 90's when everyone had a denim vest? I loved mine! And then I was informed that they weren't cool anymore. Now I've seen a few colleagues where them again, and I am right back wanting to get myself a denim vest.
I've found two I'm considering:
AE Slouchy Jean Vest
(see more
American Eagle Outfitters
)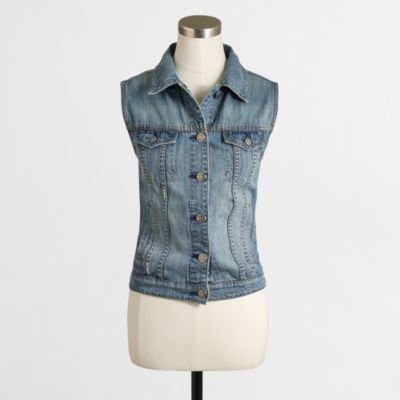 I feel like I am late to the party on this one. My husband often goes out for lunch during the week (he does stop home and eat leftovers when he isn't on the road for his job). I, however, pack my lunch every single day. The last few weeks of school my schedule isn't quite as tight as I do inventory and don't teach classes. So....I have been to the Pita Pit three times. This after years of never having tried it.
I do love the choices of veggies and meats- or black bean, falafel and other non-meat options, but I still haven't figured out a combination I am in love with.
I stopped at The Runner's Flat and bought Big Sister a pair of shoes for running since she already has cross country practice this summer. In addition to running shoes, they also have these ElliptiGos that can be rented for a day. I am ridiculously excited about this and have added it to my summer to do list. Doesn't it look fun?
And then, after working out, I would go eat these cake pops from Starbucks. One of my friends treated me the other day and it was a perfect treat for the end of the school year. The bad news is that in just a few bites, I consumed 140 calories!