I've enjoyed Julie Buxbaum's adult novels, and was excited to see she has crossed over into the YA realm with her newest novel Tell Me Three Things.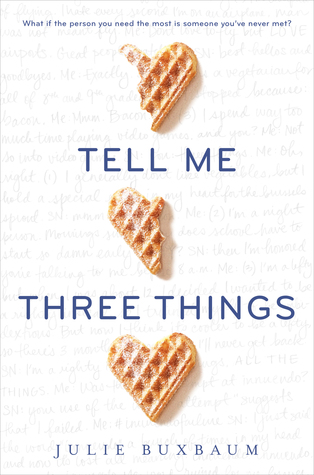 Jessie has had to move from Chicago to LA after her father elopes with a girlfriend Jessie never even knew about. Two years ago Jessie's mom died and ever since then, Jessie has counted down the number of days it has been since she last saw her mom.
Moving, starting over at a new high school in her junior year, leaving her friends behind, trying to live in a house with a step-brother and stepmother she doesn't know.....all of these things would be bad enough on their own, but Jessie is experiencing them all at once.
The school Jessie is attending is a private school where everyone is rich and Jessie doesn't fit in at all.
When she receives a message from "Somebody Nobody" she is intrigued - and replies to the message. Through these messages Jessie gets a little advice about how to survive in this new environment, and she and SN reveal three things about themselves in their messages.
Jessie would love to know who SN is, but he seems content exchanging messages and flirting with her through their texts.
As time passes, Jessie starts to find a place for herself in her new school and home, something that she realizes when she visits her friends in Chicago and sees how time has marched on for all of them.
Jessie continues to enjoy the messaging she does with SN, hoping that someday they can meet. Buxbaum creates a little suspense for readers who will be rooting for Jessie to find happiness with the person she has been messaging and sharing her inner thoughts with.
I loved this YA novel, and think teen readers will enjoy the romance of these two people who feel as though they don't fit in finding each other. I'm hoping Buxbaum has many more stories for young adults to read coming in the future.