Eric Lindstrom's novel Not If I See You First has been receiving rave reviews from other bloggers and has been selected for the Indie Next Winter 2016 Kids List.
I had it on my radar for a while now, and was excited to get it from Amazon Vine to review.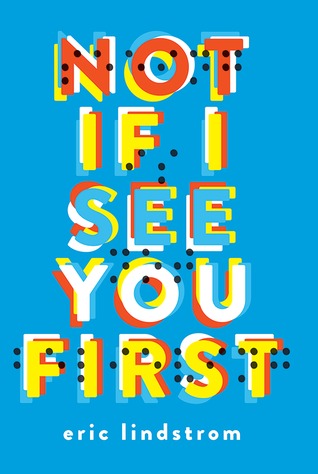 Parker Grant has suffered through many horrible things in her short life. When she was seven she and her mother were in a car accident that killed her mother and left her blind. Now she's in high school, dealing with the accidental death of her father.
Parker's blindness leaves her more vulnerable than most people. She is dependent on the group of friends she has to help her through her day, and yet Parker also is self sufficient and capable, something that seems in direct opposition with her vulnerability.
In eighth grade Parker's best friend (and boyfriend) Scott betrayed her, and she hasn't spoken to him since. Now years later, he has transferred in to her school, and the two happen to be in the same class together. Although Parker tries to avoid Scott, she starts remembering what happened between the two of them, as well as learns a few things about who Scott is now that surprise her.
I was amazed by the way in which Lindstrom was able to portray Parker as a blind person and bring to a reader's attention the many small ways in which a blind person's life is different than that of someone with sight. Small, everyday things- like the design on someone's t-shirt, the fact that she didn't realize her helper, Molly, was bi-racial - all things one notices right away and takes for granted.
This was a little bit of a slow starter for me, since it began with a variety of characters and I wasn't yet sure how they connected to Parker. However, this is an amazing book that young adult readers should be anxious to get a hold of.