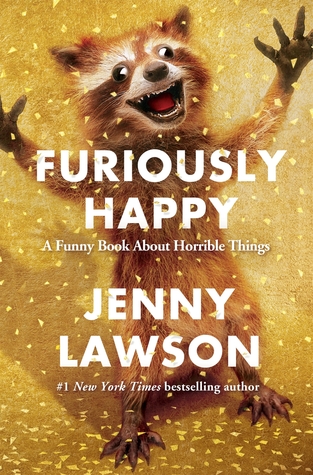 This is my latest audio book that I read/listened to while on my way to and from work and exercise class this past month.
I had heard fantastic things about Jenny Lawson, and when Ann from Books on the Nightstand discussed how much she enjoyed the audio of this book on her podcast one week, I decided it would be next up on my list.
Lawson is very funny and I liked that she narrated her own book. I have yet to read or listen to her first memoir, but this book is mostly about her mental illness and how she copes with it. The fact that she can make mental illness humorous is amazing in itself.
This was a great book to listen to in small bits and it didn't matter if I was right in the middle of a chapter when I pulled into my driveway. I could easily stop listening right where I was and pick it back up whenever I had time.
Profanity has never bothered me much when I am reading. I feel like I can gloss over it pretty easily in my mind. However, when confronted with it on audio it almost made me cringe a little bit. This book is full of every inappropriate word you would prefer your children not hear, so listen with caution, and choose your audience wisely.
At some point I'll pick up Laswon's first book, which no doubt will make me laugh and shake my head a bit as well.