I have been in love with the British Royal Family since Prince William's birth in 1982, when I began collecting anything I could find about them.
From William's baptism to his dating and eventual marriage to Kate Middleton, the world has been privy to nearly everything he has done.
In The Royal We Heather Cocks and Jessica Morgan explore a fictionalized version of William and Kate's courtship.
Prince Nicholas and Bex fall in love while they are university. She is an American (from Muscatine, Iowa, no less!), arriving for a term abroad when the two bump into each other. Becky doesn't know who Nick is initially, but it doesn't take long for her to realize she is sharing a residence with HRH Prince Nicholas of Wales.
There are portions of this story that appear to closely mirror Prince William's courtship to Kate Middleton. And there are a lot of things that are very different.
Prince Freddy, Nicholas' younger brother is a playboy womanizer, much like Prince Harry.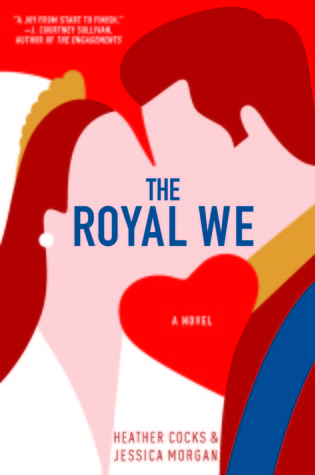 Prince Dick, Nicholas' father is aloof and disappointed in his son, vastly different from Prince Charles.
Bex and Nicholas' courted for years before marrying (similar), and Lacey, Becky's twin had a short-lived fling with Freddy (different). The wedding took place in April (similar), and the list of comparisons continues.
I fell in love with this sort-of familiar story about a girl getting her prince. The Royal We is one of my five star reads of the year, an absolute pleasure and delight to read the entire way through. I look forward to Memorial Day weekend every year for the additional day of reading I can get in and The Royal We pretty much took over my whole weekend.