I had this review posted on Tuesday for a bit (at least when I looked online) but when I got home and looked at my blog it was gone. So, I'm reposting this since Life From Scratch is too good not to know about.
I've read quite a few food memoirs, and generally enjoy books centered around food. I mean, who doesn't? I also enjoy eating.
Life From Scratch: A Memoir of Food, Family and Forgiveness by Sasha Martin sets out to be a memoir about food, but the result is a memoir about much more.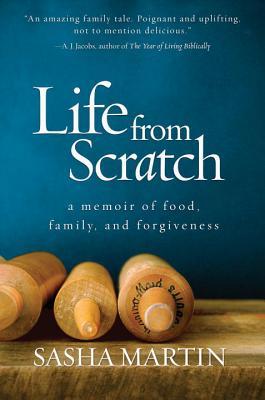 Martin's childhood was rough. She and her brother never doubted their mother's love, yet after many hardships, their mother was forced to terminate her parental rights and allow her children to be raised by friends.
In her new home, Martin travels extensively and is well provided for, yet she continues to remember bits and pieces of her childhood- especially the cooking her mother did.
As an adult Martin has made peace with her mother, and as she begins her own journey into motherhood, decides to begin a project of her own, cooking her way around the world while chronicling this on her blog, Global Table Adventure.
I picked up this book simply because I love reading memoirs, not because I had ever heard of Martin's project or her online presence. However, I have already enjoyed looking around a bit on her site, and have earmarked a few recipes to try out at home.
Seeing photographs of Martin and her family helped make her story seem more real and allowed me to connect with her beyond just the pages of her book.