At the beginning of 2014 I made a conscious decision to attempt to read more books on my Kindle (or using the Kindle app on my ipad). It's the same conscious decision I've made the past few years.
And so this year, I did. Although the total is not impressive, I read 30 books on my Kindle. For some people that's 30 more books than they read in a year, kindle or no.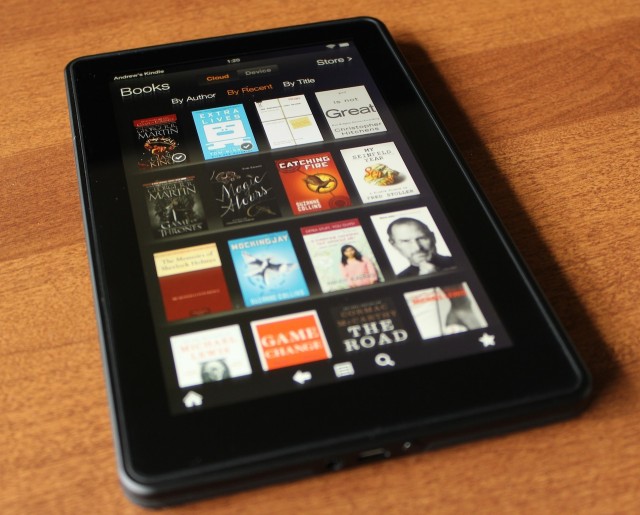 For the most part, I've enjoyed it. I love having the easy access of many, many books to choose from. I love using NetGalley and reading ARCs on an ereader.
There are still a few drawbacks, the main one being that an ebook is just not a real book. But, that will always be the case.
There are a few things I have noticed about reading on my Kindle. I never seem to know the title of the book I am reading. Without seeing the cover repeatedly, I just space that part out. I can tell you what the book is about, but the title, which just flashes up initially when you begin reading again, isn't something that you see over and over again.
I miss seeing the author's picture, and reading author notes. I have become used to looking at these during my reading experience, not just at the end. Sometimes that really does add to the enjoyment of the book I am reading, and I wish I felt more like I could flip back and forth (which is technically possible, but just doesn't work as easy as with a paper book).
Every once in a while I wish I could flip back and forth with more ease, to re-read a certain part, or review a clue if I am reading a mystery. I am aware that this is possible with e-books, but not nearly as easy as if I were reading a paper copy of the same title.
I don't foresee a time when I'll ever totally convert to reading e-books, but my days of needing to have a paper copy of a title to add to my already too large home library are gone. I am enjoying the reduced clutter that reading on my kindle provides and the easy access to so many books in just one place.
I feel like thirty books this past year is just the start of what I hope to build on in 2015. I'm shooting for 50 books this next year!