My Life Next Door was Fitzpatrick's first novel and I devoured it last year. I have looked forward to more from Fitzpatrick since I finished her novel last summer.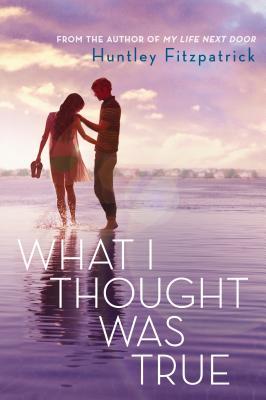 At first I was disappointed with What I Thought Was True. I had a hard time getting into it and stopped reading at several different points.
Part of the reason I will attribute to Gwen, the main character. I couldn't really relate to Gwen at all. She had a bad reputation at school for her promiscuity, something that Gwen doesn't deny or feel bad about.
Gwen's behavior is part of what stands between her having a real relationship with Cass, an all around good guy. Her reputation is part of their struggle to have a relationship, especially since she has a history with Cass and with his best friend, Spence.
Gwen's family provides part of the subplot in this novel. Her younger brother, Emory, isn't autistic, but has some developmental problems and needs extra attention and care. Her cousin Nico has been dating her best friend, Viv, which give Gwen the feeling of always being a fifth wheel, wishing she had someone to care about her as she sees Nico care about Viv.
One thing this novel does well is explore sex and the emotional consequences of having a physical relationship. Just as in MLND, Fitzpatrick has created characters who understand the responsibility of sex and are able to communicate with each other about this.
Overall, I ended up enjoying this novel, and have an appreciation for the types of characters and stories Fitzpatrick creates for young adult readers who are looking for characters they can relate to.