The Posts are vacationing as a family, spending a couple of weeks in Spain at the home of one of Fanny's friends. Fanny and Jim are celebrating their thirty-fifth anniversary, although not happily. Their daughter Sylvia has just graduated from high school, while the older son, Bobby, is coming from Florida with his girlfriend, Carmen.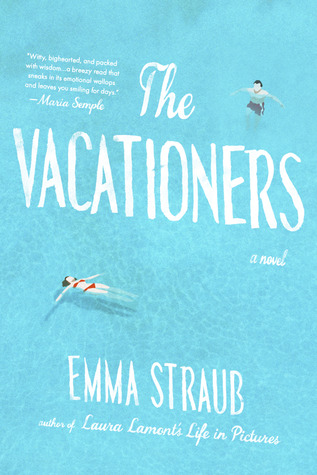 Fanny's best friend, Charles, and his husband Lawrence, are also along on this vacation, adding to the cast of characters in The Vacationers.
After reading several reviews of The Vacationers, I've seen the term dysfunctional used repeatedly. Although each character in this novel has a variety of challenges and faults, Straub's portrayal of this family felt real to me. Each character was multi-faceted and felt human.
Despite the fact that Fanny and Jim have been married for thirty-five years, they are experiencing marital trouble after Jim's brief affair with a much younger intern. Jim, having been forced into early retirement isn't sure what to do with himself. Sylvia is anxious to leave home and head off to college, but would like to lose her virginity. Bobby, a decade older than his sister, lives in Florida where he has done well for himself in real estate. Or that is what he has led his family to believe. His girlfriend, Carmen, is much older than Bobby and despite the fact that they have been together for several years, the two still have little commitment. Even Charlie and Lawrence are struggling with their own set of problems. They would love to adopt a child and are awaiting news from their adoption agency that a birth mother has selected them,
This novel was a pleasure to read. It's the perfect summer book for anyone wanting a little escape, visiting another country without leaving their own lawn chair.
Straub's novel Laura Lamont's Life in Pictures was published a few years ago, and I recommended it to several people after having read it. Although it didn't receive the accolades The Vacationers has, it is a fabulous read as well.