I've always loved novels written in letter format. I'll Be Seeing You is just set in one of my favorite time periods (World War II).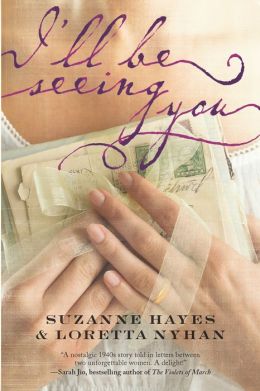 Rita lives in Iowa City where she and her husband, a professor, relocated when their son, Toby, was young. With the war on and both her son and husband overseas fighting, Rita has plenty of time to write long letters to her new pen-pal, Glory.
Glory, an East Coast mom whose maiden name happens to be Astor, is also in need of some friendship. Her husband, Robert, is off fighting as well.
The two women correspond for a few years during the war, revealing their true feelings to each other - feelings they can reveal in letters but wouldn't be able to tell anyone in person.
They are there for each other anxiously awaiting the return of their spouses and Rita's son. They rejoice and mourn together even though miles separate them.
In a time before email and phone calls, these women devote themselves to their friendship, keeping in touch the only way they can.
I loved both Glory and Rita and the perspective each of them brought to this story. Rita's Iowa City home allowed me to smile in recognition as she mentions The Old Capitol and other familiar places.
Interestingly enough, I'll Be Seeing You is written by two women, Suzanne Hayes and Loretta Nyhan, who have never met.
I'm definitely recommending this one to friends and book clubs.