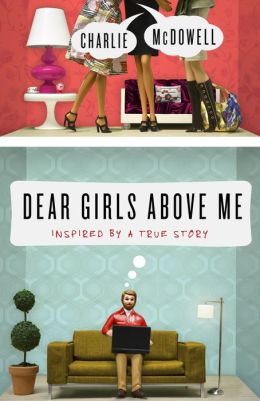 Today I spent my morning hall duty reading excerpts from Dear Girls Above Me: Inspired By a True Story by Charlie McDowell to my co-workers.
Charlie lives downstairs- directly underneath- Claire and Cathy, two single women, who say the most hilarious things, without even meaning to be funny.
Dear Girls Above Me,
"How do you spell... this word?" Unfortunately, I don't have a visual, but aren't you pointing to it?
Charlie began sharing snippets like the one above on Twitter and soon had quite a following. Taking his Twitter postings and adding more of his life story, McDowell's book made me laugh out loud several times.
I did enjoy the humor in Dear Girls Above Me, yet was happy that I read this in short bursts, since I would not have appreciated the humor for a long period of time. In fact, following him on Twitter might be enough to satisfy my need to know more Cathy and Claire.