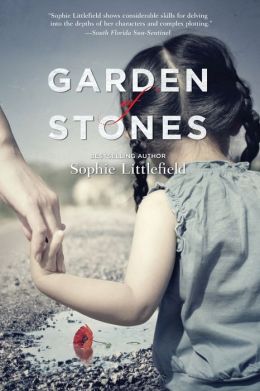 One thing I've been trying to do more of this year is use my Kindle a bit more. I feel guilty having a ton of great books downloaded on it and not using it. Plus, I have some great titles from Net Galley waiting for me. Of course using my kindle more doesn't translate into reading my Net Galley books in a more timely manner, but as soon as I saw Target's book club pick was Garden of Stones by Sophie Littlefield, I did quickly call it up on my Kindle and begin reading.
I have always been a bit amazed by the story of Japanese Americans being sent to internment camps during World War II, so I knew instantly that this book would be one I would enjoy. And where this could have been a story I felt like I had already heard before, Littlefield managed to create an unique look at the Japanese experience during
this time.
Lucy is fourteen when she and her mother are relocated to Manzanar. Suddenly her life is vastly different than the one she has known. Her mother, Miyako, also struggles as a single woman in a camp full of men. Unlike previous books set in internment camps, Garden of Stones presents a less than rosy picture for women in the camps. The men that Lucy and her must deal put both of them in rather dangerous positions.
Now decades later, Lucy is an elderly woman accused of the murder of a man that according to her daughter, Patty, she does not know. As Patty begins digging she locates pictures of her grandmother and mother from their time in Manzanar along with the murder victim. There seem to be a lot of secrets that Patty knows nothing about and as things unfold she is more curious about what happened to her mother so long ago that her mother has kept secret.
This will be a great book club pick with lots to talk about. Anyone who enjoys historical fiction, World War II novels, women's fiction, or suspense will enjoy Garden of Stones.