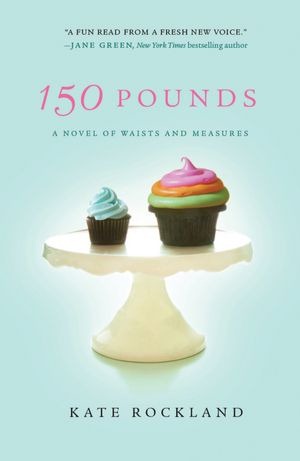 Kate Rockland's novel 150 Pounds is a humorous novel that carries a deeper message than the cupcakes on the cover suggest.
Shoshana Weiner has been overweight her entire life. She makes her living as a blogger, chronicling her journey with obesity. She meets fellow blogger, Alexis Allbright, on Oprah one day as the two are interviewed about their disparate views on body image and weight. Alexis weighs in at 100 pounds and counts calories religiously. Her entire life revolves around exercise, dieting and criticizing those who are not as thin as she is.
Shoshana and Alexis each share their stories as they alternate narrating chapters. As time progresses, they are confronted with different life events that caues their blogs and focus on food to alter. Shoshana inherits an apple orchard that requires a great deal of physical labor and a change in diet. Alexis perhaps changes the most. She is forced to confront the death of her brother in Iraq, her mother's alcoholism, and her father disinheriting her for refusing to have a career as a lawyer. Her best friend Billy battles cancer, and she breaks up with Noah, the one good and decent thing she has going for her.
Interestingly enough as the story unfolds, Alexis begins to gain weight and Shoshana begins to lose weight. As a reader, I could identify with Shoshana. Alexis' behavior was over the top - her calorie counting, and extreme way she controlled her weight did cause me to chuckle to myself a bit, but it was Shoshana with her desire to accept herself for who she was and what she looked like that I think most women would see a bit of themselves in.
Despite the fact that Shoshana's name was Weiner, as I began reading - and before I even knew this character's last name- I felt as though 150 Pounds was a novel much like some of Jennifer Weiner's earlier books. While this has some chick-lit tendencies, there is a deeper message about accepting yourself and seeing beyond a person's physical appearance that is also conveyed.