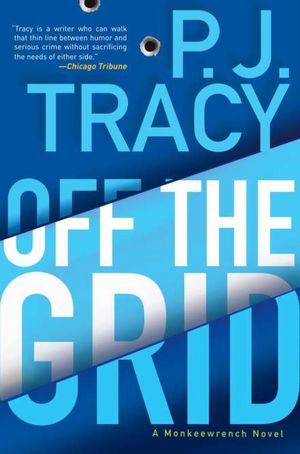 I have a few friends who read mysteries almost exclusively. I admit they are usually fast moving and I do like suspense from time to time but it isn't the first type of book I gravitate toward.
However, I do have a few series that I have become attached to. PJ Tracy's books are some of my favorites. Written by a mother/daugher author team, I love that these books are set in Minnesota, a locale with which I am familiar.
Monkeewrench, the first book in this series, introduces a group of brilliant computer geeks and two detectives. Now, six books into the series, the Monkeewrench gang is still going strong. Grace MacBride is spending some quiet time on a boat off of the Florida coast, trying to get rid of the demons that have long been a part of her life. Just as she should be relaxing with a retired FBI agent, an assassination attempt sends her adrenaline racing and into danger once again. In seemingly unrelated events, Somalis are found murdered - and later it is discovered that these Somalis had committed or were planning to commit acts of terrorism.
There are a lot of tangled webs in this book and I couldn't begin to connect all the dots until I had read until the end. With any luck PJ Tracy are already at work on the next book in this series that I am still enjoying.