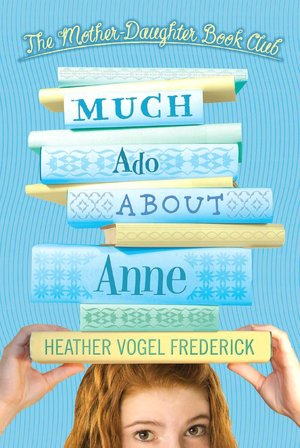 The Mother Daughter Book Club by Heather Vogel Frederick is at the top of my fourth grade daughter's list of great series right about now. I read the first book when it was first published and really, really liked it. I'm not sure how my daughter decided to read it - at times she doesn't like my suggestions. But she quickly moved through the first three books and finished the fourth this past week.
The entire time I have heard repeatedly about how I need to read this series. And I really have intended to. But the overwhelming tower of library books seems to take precedence. This past weekend I caved. My library stack is still towering and probably always will be. Much Ado About Anne was calling my name. My daughter was ecstatic that I was reading it. Almost as soon as I turned the first page she was quizzing me about how far along I was and what was happening in the book. I did have to refresh my memory a bit since the characters and their individual situations were no longer fresh in my mind. But once I got into it, Much Ado About Anne, was a great second installment to this series.
Becca Chadwick has been asked to join the book club much to the chagrin of Emma, Jess and Cassidy. Megan, who has a soft spot for Becca, doesn't seem as upset about Becca joining book club. This year the girls and their mothers have decided to read the Anne series (beginning with Anne of Green Gables) by L.M. Montgomery. The club meets periodically throughout the year to check in with each other and discuss the books, but the girls are much better friends than those that meet only a few times a year. They take turns narrating the book's chapters, telling of the events in their lives.
Cassidy is upset by her mother's dating, still trying to come to terms with her father's death. Although the new boyfriend is nice, he isn't her dad, and Cassidy puts forth a lot of effort into not liking him. Megan is working on designing some clothes that will be featured in a fashion magazine. Emma is beginning to worry about her weight a little and noticing Becca's brother, Stuart. And Jess is worried that her family will have to give up Half Moon Farm because they don't have enough money to pay the taxes.
Frederick is able to tie all storylines together, resolving things for the girls for the time being. A truce has even been called in the war with Becca Chadwick. I love the focus on reading. Of course that is to be expected since this book is titled The Mother Daughter Book Club. However, Frederick works in some information not only on the Anne of Green Gables books, but other books that different characters reference making for a great way to add to your own TBR list.
I doubt I will be able to wait too long before picking up the third book. My daughter has already asked me if I have started on it.